A couple of years ago I had been given two dreams back to back in one night. You can see it dated May 2013 in the "Sequence of Events" article. In that article I mentioned a power outage (thinking it might be solar), but I knew it was a place of significance. Below are a couple of the articles of such a blackout.
The dream before (in 2013 for 2/15) that showed me a secret change of the guard in the White House; I believe someone heard that call this February. I know there are credible prophetic words that Obama will not let that happen. When God had given me the dream (and when I sought Him more on a more accurate interpretation in February this year) I had no idea that there was a Republican gathering of men coming forth with the thought of running for President. Interesting . . . More will be revealed on this.
Remember, that when someone gets a prophetic dream, we all need to pray and ask God for His mercies, and miracles. We need to stand in the gap to prevent evil from taking place. We cannot and must not be apathetic and let come what may. We must be the head, not the tail!!! (Deut. 28:13). Scripture isn't only quoted, but done. Please do!!! : )))
April 17th, a couple of months ago, I awoke to a dream where many "spot fires" were destroying California. They were happening everywhere. I was taken beside a freeway and saw many cars just like in the pictures below evacuating all of California. Much to my surprise, that day, I saw in the news just what I had seen in my dream. It is only a beginning however. How I wish people could move into another state. Some can, some cannot. But God has a plan and purpose even in this.
(1)
A 10-acre brush fire along the 91 Freeway burns near Green River Road in Corona on Friday, April 17, 2015.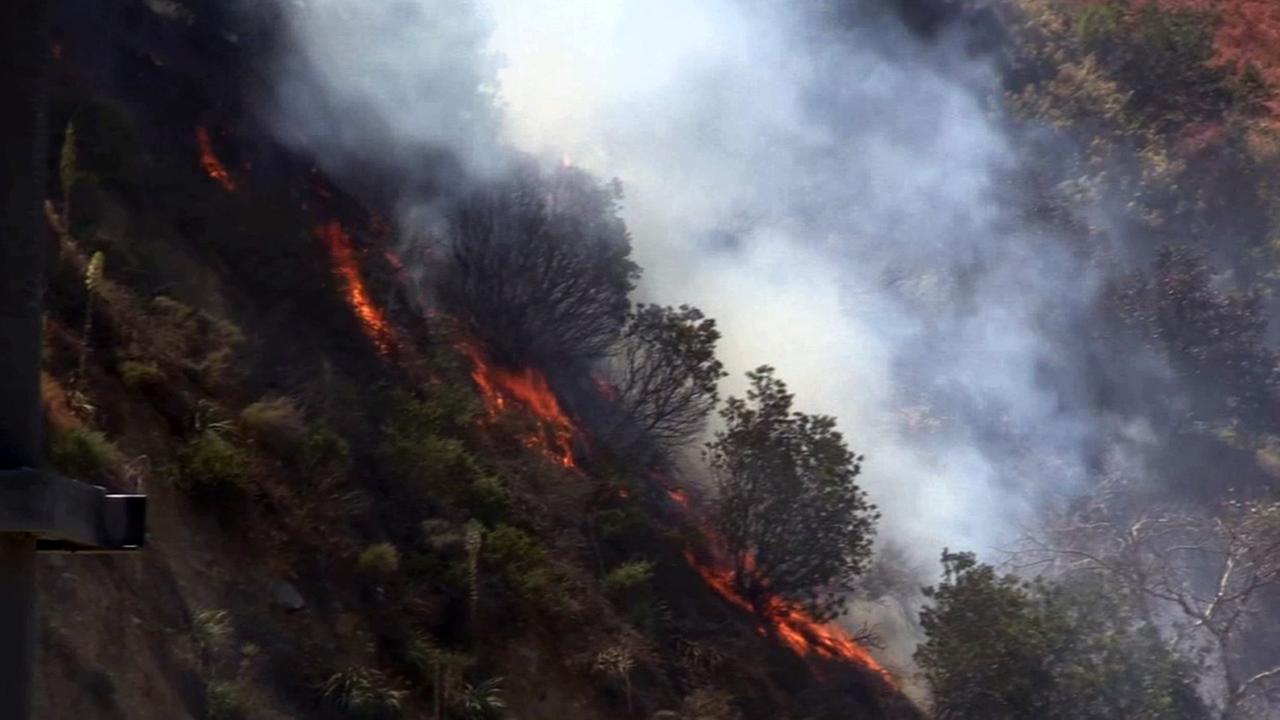 Friday, April 17, 2015 07:40PM
CORONA, Calif. (KABC) —
Riverside County firefighters battled a 10-acre brush fire along the 91 Freeway near Green River Road in Corona.
The fire was reported at 12:49 p.m. Friday. Several agencies responded to the fire, which burned in brush near the county line.
The brush fire was visible from the freeway, and a SigAlert was briefly issued in the area by California Highway Patrol.
Nearly 100 firefighters were called to the scene and water-dropping helicopters were deployed.
By 6 p.m., crews were beginning to mop up the area.
The cause of the fire was under investigation.
(2)
FRESNO, Calif. (KCRA) —A gas pipeline explosion near Fresno injured 11 people and shut down a section of Highway 99 for several hours Friday afternoon.
(3)
Firefighters fully contained two sections of two brush fires that burned nearly 5 acres along a canyon road off Pacific Coast Highway in Malibu on Friday.
Smoke was rising from a property in Malibu amid a brush fire on April 17, 2015. (Credit: KTLA)
The two-branch blaze, dubbed the Dume Fire, was fully contained by about 6 p.m., when firefighters were mopping up hot spots, according to the Los Angeles County Fire Department Twitter account.
The fire burned uphill in medium brush at PCH and Kanan Dume Road.
~~~~
This is enough for now. We know how to pray. We must be in unity, and careful to repent always for our sins. God speaks that in His word in both the New and Old Testament. He also says, "I change not." He also says that we know that we are Christians by our love. It isn't a feeling, it is what we do. You have to lay down your attitudes and understanding to let Christ live through you and bless the other person. It's a joy when that victory has been made full!
Blessings to you all!!
From Glory to Glory….
Jonathan & Stephanie